A Salute to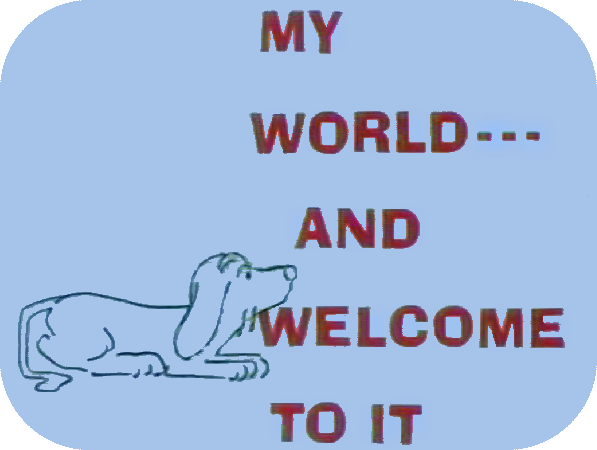 based on stories, inspirational pieces, cartoons,
and things that go bump in the night...by James Thurber
Sorry, as far as I know My World and Welcome to It cannot be found on video or DVD.
---
In 1969, television situation comedy was in transition. The era of the groundbreaking sitcom, heralded by All in the Family and followed by series such as Maude, Good Times, and Room 222, had not yet arrived. The genre was still winding down from a spate of series with magical characters/aliens/robots (My Favorite Martian, My Living Doll, My Mother the Car), although Bewitched was still going strong and there were series like The Ghost and Mrs. Muir entering a second season.
But by and large the 1969 sitcom family was still the Nelson/Cleaver type.
That year producer Sheldon Leonard (Make Room for Daddy) and writers Melville Shavelson and Danny Arnold (the latter who went on to do Barney Miller) came up with a whimsical, often sweetly cynical comedy about a writer/cartoonist and his home and office life, based on the writings of James Thurber. Entitled My World and Welcome to It, after one of Thurber's most famous story collections, it used animation to flesh out the main character's perplexity with life, using Thurber's cartoons and stories with full cooperation from the Thurber estate.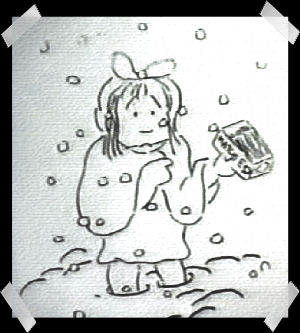 (Years later Ally McBeal's advertisers would promote the little cartoon fantasies that Ally had about her co-workers and acquaintances as something novel, forgetting that My World used the technique over 20 years earlier.)
John imagines a runaway Lydia's fate -->>
Premiering September of 1969, the series introduced us to John Monroe, a talented but often exasperated cartoonist/author who worked for a New York City magazine called The Manhattanite (based on Thurber's old stomping grounds, The New Yorker). At home in Connecticut he found his creativity plagued by his commonsense wife Ellen, who couldn't understand why her otherwise intelligent husband couldn't cope with the simplest of domestic chores, and his precocious daughter Lydia, who at ten was usually more interested in the status of war in the Middle East than in toys. While John loved his daughter, he certainly wasn't the dandling daddy type, something that alternatively bothered and relieved the child.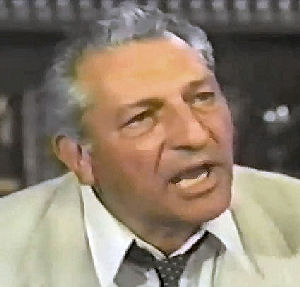 At work, John had to put up with his irascible editor, Hamilton Greeley, who usually suffered from a distinct lack of imagination--most of John's cartoons puzzled him, although readers seemed delighted. John's occasional partner in commiseration about Greeley's lack of imagination was fellow writer Phil Jensen.
<<-- Hamilton in his natural position: with his mouth open
Each episode combined several regular conventions. First, of course, was the use of animation based on Thurber cartoons, whether it be the entire tale of "The Unicorn in the Garden" as related to Lydia, or even as a basis for an entire episode, as was done with "The War Between Men and Women." Some episode teasers opened with John at the office, but a more common opener was that of John incorporated with Thurber's "Woman and House" cartoon. The opening credits involved a drowsy Thurber dog who is disturbed as the opening titles are scrolled around his sleeping place; the dog eventually finishes by "chasing" the Thurber name offscreen. The episode usually closed with animation of one of the characters coming out on stage and thanking the audience for watching, leading into a preview for the next week's episode.
Thurber stories also formed the basis for or were incorporated into episodes. In addition, John would usually "break the fourth wall" and talk directly to the audience about his predicaments and puzzles, as George Burns did a decade earlier in The George Burns and Gracie Allen Show.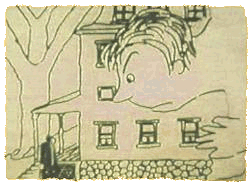 Ellen not pleased with the contents of John's shopping bag
Critics were delighted with the series and positive reviews showered each performance. The series had fair ratings and had squeaked by being scheduled by NBC for a second season when CBS abruptly cancelled the long running Red Skelton Show. NBC immediately signed Skelton to a half-hour series, but had to axe one of their lesser rated programs to do so. As luck had it, the unfortunate series was My World and Welcome to It, fresh from having won two Emmy awards, one for Best Comedy Series, one for William Windom as Best Actor in a Comedy Series.
(Either the Emmy Award committee had no inkling Windom would win the award, or they were so certain he would that they set up the presentation to best showcase a classic comedy moment: the actress who presented the award was none other than Eva Gabor. In her inimitable Hungarian accent, Windom's victorious vote came out as "And the vinner is Villiam Vindom for My Vorld and Velcome to It.")
Ironically, CBS had the last laugh: NBC's version of The Red Skelton Show died in the ratings and was gone after a year.
CBS repeated My World and Welcome to It during the summer of 1974 and it turned up occasionally on local stations, most recently in the early 90s on Chicago's WGN. Since then this clever series has vanished.
Credits:
Conceived for Television By Melville Shavelson.
Executive Producer: Sheldon Leonard.
Producer: Danny Arnold.
Script Consultant: Melville Shavelson.
Music: Warren Barker.
Theme: Warren Barker and Danny Arnold.
Associate Producer: Don Richetta.
Animation: DePatie-Freleng.
Executive in Charge of Production: Ronald Jacobs.
Thurber material by arrangement with Jules Goldstone.
---
John Monroe: William Windom
Ellen Monroe: Joan Hotchkis
Lydia Monroe: Lisa Gerritsen
Hamilton Greeley: Harold J. Stone
Phil Jensen: Henry Morgan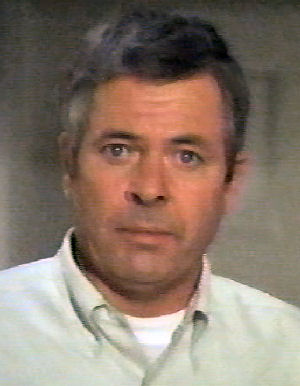 William Windom as John Monroe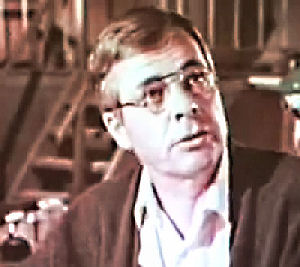 John at his desk.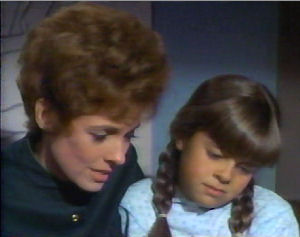 Ellen and Lydia read John's memorial to Christabel.
---
William Windom, who spent much of his early career playing bad guys or sarcastic characters (i.e. the prosecuting attorney in To Kill a Mockingbird) and still fresh from his three year stint as Congressman Glen Morely on The Farmer's Daughter), went on for a long run as semi-regular Doctor Seth Hazlett in the Angela Lansbury mystery series, Murder She Wrote. Windom, a Thurber fan, toured for several years in a one-man show in which he read some of Thurber's more well-known stories.
Star Trek fans will also recognize Windom as the obsessed Commodore Matt Decker in the classic episode "The Doomsday Machine."
Windom's great-grandfather, also named William Windom, was a politician of some renown. He served as a Congressman from Minnesota for five terms and was Secretary of the Treasury under Presidents James Garfield and Chester Arthur. Click for a photo of him; you'll notice the family resemblance is very strong! The elder Windom even has a book written about him.
Lisa Gerritsen went on to play Phyllis Lindstrom's daughter Bess first on The Mary Tyler Moore Show, then on Cloris Leachman's spinoff Phyllis. But her connection with Thurber hadn't been severed quite yet. In 1972, she appeared as the stammering, shy Linda Kozlenko in Mel Shavelson's film The War Between Men and Women. Shavelson and Arnold returned to their love of Thurber to present this lukewarm comedy about mysogynist cartoonist Peter Wilson, trying to ignore the fact he's going blind, who falls in love with divorceè Terry Kozlenko (who of course comes with a complement of three children, including rebellious teenager and neurotic young son, a dog, and a globetrotting ex-husband who puts more emotion into his award-winning photos than he ever put into his family life). Thurber cartoons, including the epynomous one, appeared in the movie; featured is Thurber's anti-war parable "The Last Flower."
The Hamilton Greeley character was based on the original editor of The New Yorker, Harold Ross. Ross' exasperating, inimitable character is captured best by Thurber's affectionate book, The Years With Ross, which also delinates the early years of the magazine and its offbeat contributors.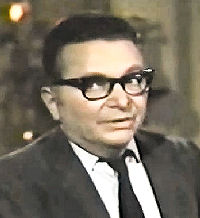 The Phil Jensen character was based on writer Robert Benchley.
The delightful book Harry and Wally's Favorite TV Shows gives My World three stars and describe it as "a series that was truly before its time," adding that Windom was perfect in his role and had "the bookish, otherworldly feel about him that makes sense in the Monroe character." The volume also notes that a Thurber-based pilot had once aired on Goodyear Theater in 1959. Called "Christabel," it starred Arthur O'Connell, and was a pilot for a series to be called The Secret Life of John Monroe. According to the book, it "had the exact same premise and virtually the same characters," and also included animation.
Robert Armin sent me this further information on "The Secret Life of John Monroe":

You might be interested to learn of the original "pilot" episode for what became My World and Welcome To It, produced in 1959 and aired on Alcoa/Goodyear Playhouse. Jules Goldstone, who acquired the rights from Thurber, produced the show and was given credit on My World as "Thurber material by arrangement with Jules Goldstone." Script Consultant: Melville Shavelson wrote the original pilot which starred Arthur O'Connell, Georgann Johnson and Susan Gordon as John, Ellen and Lydia Monroe.

The Secret Life of John Monroe (Unsold Pilot) (aka The Secret Life of James Thurber). This 30 minute pilot aired as the "Cristabel" episode of Alcoa/Goodyear Playhouse. Produced by Jules Goldstone for Screen Gems. Director: James Sheldon. Writer: Mel Shavelson, from the stories by James Thurber. Arthur O'Connell starred as magazine writer and cartoonist John Monroe whose fantasy world is illustrated by UPI animated cartoons based on his drawings. In this one and only episode, Monroe (O'Connell) refuses to allow his daughter Lydia (Susan Gordon) to have a dog, only to have the dog, Cristabel, die after he relents. Georgann Johnson played Ellen Monroe, Charles Herbert (of The Boy and the Pirates) was Charlie and Dabbs Greer played the Policeman. Broadcast on June 8, 1959.

This information can also be found on the Susan Gordon Tribute Pages
"John Monroe" is the lead character in a sequence of Thurber tales called "the Mr. and Mrs. Monroe" stories. An episode about a bat in the house is based on one of these stories.
Each episode ends with a cartoon version of one of the four main characters (John, Ellen, Lydia, and Hamilton) coming out on the stage to preview next week's episode.
---
John about to have a confrontation with Hamilton

John and Lydia play chess—to his dismay she beats him!

Lydia looking adorable in her retainer

John is perturbed

Things are going Ellen's way

John tells Lydia one of his stories

Lydia stands up for her father, however perplexing she finds him

John comments on the state of modern medicine after he fetches medicine for Lydia's cold

Ellen perturbed about one of John's foibles

Lydia gives John an impish look after he helps her at school

John tells stories by drawing for Lydia

He tells her about his family and his grandfather...

...and the night the house caught fire

But it's the unicorn a man saw in his garden that makes her feel better
---
Unfortunately I own only six episodes on videotape (and those thanks to WGN), plus another on audio tape). The following is my guide to the episodes that I have on tape. The titles have been provided by Jim Beaty. Jim was kind enough to send me a copy of the series overview and episode guide that was provided in a My World and Welcome to It press kit that he purchased on e-Bay and said that I might use this information on my site. Please see the link below to read this information.
¤ "The Disenchanted," written by Ruth Brooks Flippen, directed by Danny Arnold.
John, tired of being interrupted at the office by the rumble of the freight elevator next to his office, decides to work at home, only to run into the problem of Lydia's dissatisfaction with her seat in school. When Lydia decides the only recourse is to run away, John accompanies her to the city, where she decides to settle with John's flamboyant sister Kate. Of course John ends up worrying more than Ellen does.
Aunt Kate: Carole Cook. Miss Skidmore: Lilian Field. Harry: Lenny Bremen.
"There are two things a wife can't stand: a husband coming home early or a husband coming home late. Oh, and one other thing: a husband coming home in the middle of the day."
¤ "Little Girls are Sugar and Spice—and Not Always Nice," written by Rick Mittleman, directed by Lee Philips.
John and Lydia seem to have no common ground in conversation—he can't understand why she wants to talk about current events and why she doesn't talk about things that relate to her own age—so the little girl learns how to play chess to please him. But as a neophyte player Lydia is "wiping the floor" with her dad, so he begs tips from an expert at work. But not even Otto's help and his arsenal of fantasies will save him.
Otto Bergmann: Oscar Beregi. First Man: Lew Gallo. Second Man: Lee Philips. Third Man: Leon Colker. First Woman: Gloria Lord. Second Woman: Mary Lou Taylor.
¤ "The Seal in the Bedroom," written by Paul Wayne, directed by Lee Philips.
At an editorial meeting, John and Hamilton bump heads over one of John's cartoons about a seal perched on the headboard of a couple's bed, and it doesn't help when Lydia and Ellen agree about the assessment. Then Phil tries to convince him that the seal is symbolic of John's mother coming between Ellen and himself and gives John a psychiatry book to read, and he's off and running.
Mrs. Monroe: Betty Kean. Writer: Sam Denoff.
Thurber's "Seal in the Bedroom," which provides the pivot to this episode, invited contention in real life: New Yorker editor Harold Ross didn't understand it, either. Some of the conversation in this episode comes directly from what happened when Ross first saw the drawing.

This may be the same San Denoff, who, with Bill Persky, created the series That Girl.
¤ "Christabel," written by Melville Shavelson, directed by Sheldon Leonard.
John is in the doghouse—almost literally—when first he has an argument with Ellen about when animals' eyes gleam, and then he compounds the error by writing a satirical piece about an Airedale his family owned when he was a boy. He only makes things worse when he turns down Lydia when she asks for a puppy. Then the Monroes' elderly poodle Christabel becomes ill.
Veterinarian: Frank De Vol. Charlie: Richard Steele.
The other family dog is a bloodhound named Irving. The Thurber pieces used were "The Dog That Bit People," "The Topaz Cufflinks Mystery," and "Memorial."

Composer De Vol, who did such television themes as Petticoat Junction and Green Acres, often appeared as an actor as well. He was a regular on the series Camp Runamuck.
¤ "The Night the House Caught Fire," written and directed by Melville Shavelson.
Lydia is laid up with a bad cold and while Ellen does the shopping, John entertains her with tales to try to prove that people who daydream are far better off than "normal" people." When "The Unicorn in the Garden" fails to impress her, John relates a tale about his great-grandfather Skinner, who used to enthrall him with tales of his Civil War exploits.
Grandpa: Douglas V. Fowley. Little John: Bobby Riha. Roy Monroe: Billy Corcoran. Alexander: Vic Tayback. Fire Chief: Joe Besser. Fireman #1: Ralph Montgomery. Fireman #2: Ken Greenwald.
John on modern medicine: "Every time I hear of the Nobel Prize being awarded for medicine I think of the common cold...so far, the only progress made toward finding a cure for the common cold has been the totally inadvertant discovery that a hot rum toddy, taken occasionally, won't do a single bit of good, but it isn't a bad idea. However, in the case of juvenile victims, this method is frowned upon unless they can produce a driver's license. Has it ever occurred to you, as a reflection on our civilization, that no one in this country is allowed to become intoxicated until they've learned how to drive a car?"

John on imagination:
Lydia: "Daddy, are people who see things and daydream, are they, well, normal?"
John: "No, they're much better than that. Why, for heaven's sake, they're the artists, the poets, the bums, the cream of society. They get a lot more out of life than normal people. For one thing, they're never lonely or cold or hungry, because they've got their imagination to keep them warm and to keep them company. And, don't you believe for a minute that because they see things that you don't, that those things aren't there."

John's parents, according to this, are named John and Agnes. (Agnes was the middle name of James Thurber's mother.)
¤ "The Shrike and the Chipmunks," written by Marion Hargrove, directed by Sheldon Leonard.
John is incensed when Hamilton decides to devote an entire issue of The Manhattanite to George Lindsay Lockhart, a children's book writer, whose next book will be illustrated by John. While Ellen and Lydia are charmed by Lockhart when he comes to visit, John is further irritated—until he discovers Lockhart is a cynical, frustrated soul who'd love to write something more acidic.
Lockhart: Paul Ford. Delivery Man: Dave Shelley.
The stories that Lockhart "writes" are actually Thurber's Fables for Our Time, specifically "The Shrike and the Chipmunks."
¤ "The War Between Men and Women," written by Rick Mittleman, directed by Alan Rifkin.
At their sixteenth anniversary party at the Monroe house, Phil Jensen finally "breaks" at his wife Ruth's habit of embellishing and interrupting his story and accidentally spills a drink on her. This, and a hostile encounter at the grocery store, result in an escalation of warfare between Phil, John, Hamilton, and J.J. Howard, a fellow writer, and Ruth, Ellen, Margaret, and Sylvia Howard when Ruth throws Phil out of the house.
J.J.: Ray Walston.
"The War Between Men and Women" forms the crux of this episode, but another Thurber piece used is "The Curb in the Sky."
Overview to series and episode guide from My World and Welcome to It press kit, provided by Jim Beaty. I have added some notes about Thurber stories when possible.
---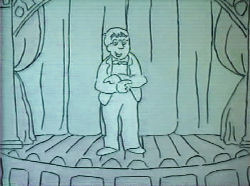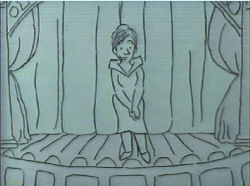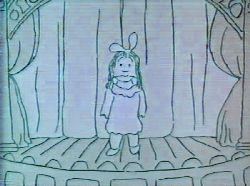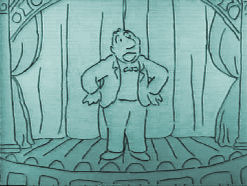 "Thank you for visiting this My World and Welcome to It web page.
Here are some other sites you might enjoy."
TV Party's My World and Welcome to It Page
TV Party's Fall reviews of the 60s contains a 2:19 minute preview of My World and Welcome to It which includes scenes from the pilot, "Little Girls Are Sugar and Spice — and Not Always Nice," and "Man Against the World"
Four photos from the My World and Welcome to It press kit, provided by Jim Beaty.
A Tribute to Thurber and Lisa Gerritsen, Gary Cahall
The Thurber House (a must-visit site for any Thurber fan)
My World and Welcome to It is the property of Sheldon Leonard Productions/NBC Television. This is a fan page. No copyright infringment is intended. Any opinions stated are my own and do not reflect the thoughts of the creators or producers.

Send me an e-mail
---